---
Hilos y Secuencias (Painted Strands)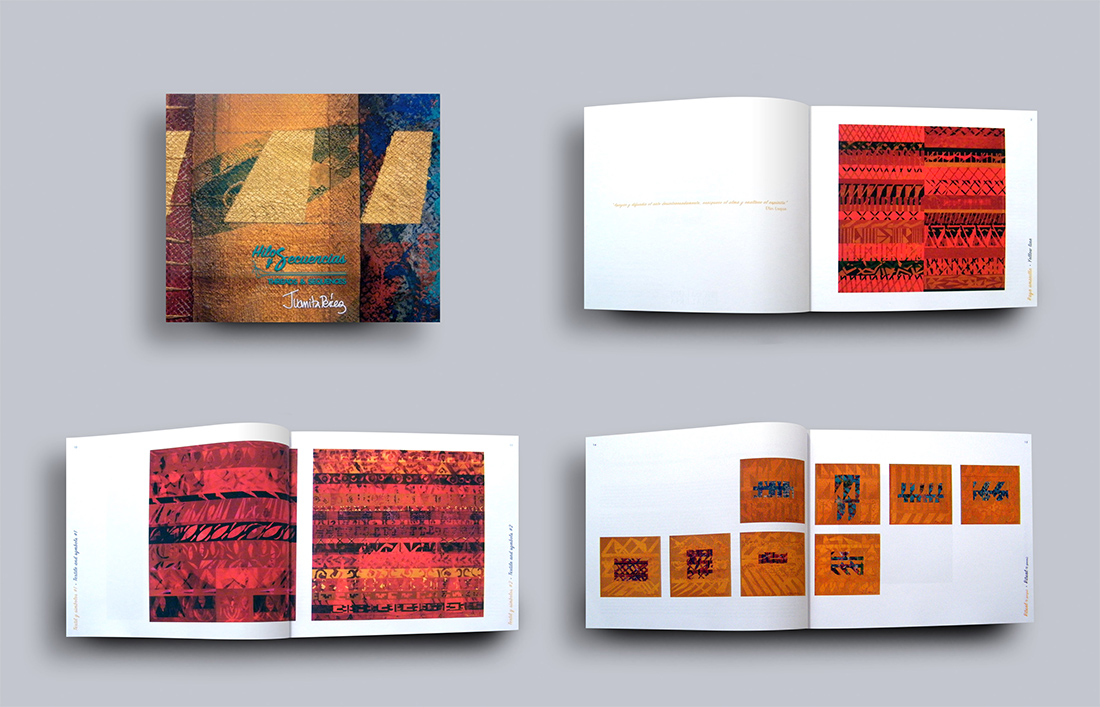 Hilos y Secuencias (Painted Strands)
Casa Lamm
September 2019

Painted Strands
By Germaine Gomez Haro
I have followed Juanita Pérez's artistic path with great interest since her first collaboration with Casa Lamm in 2004. That exhibition Paraísos Internos, demonstrated not only her masterly painting techniques, but also emphasized the originality and freshness of her work. I have closely followed her artistic evolution over the past fifteen years and offer my congratulations on this, her latest collection: Threads and Sequences, her fifth exhibition with us. This group of painting adroitly brings together the cultural synthesis of her Colombian heritage with powerful influences from Mexico where she has resided for many years. Some time I wrote that the art of Juanita Pérez may be viewed as a "life diary", one that entwines her personal history with universal stories linked together over time. Through her paintings, she continues to remind us that tradition, inextricably both past and present, is a perpetual and eternal continuum.
Juanita Pérez's painting, embracing rhythm, balance and harmony reveal very different narratives. Their geometric constructions seem, at first glance, mere non-figurative compositions, but interpretation goes beyond formal representation to offer a deeper, more evocative reading. Her canvases, with their abundant textures and color, are landscapes of the subconscious, evoking a universe of signs that reaches beyond familiar images. In her work, the formal vocabulary has a symbolic value, the result of a long and complex creative process that culminates in an elaborate and complex capacity for abstraction.
Her canvases are the territory where past and present converge in a subtle fusion recalling great traditions of architecture, ancient and contemporary, Colombian and Mexican, together with her astute observations of the traditional indigenous textiles present in both cultures. Juanita comes from a family of Colombian architects whose influence is evident in the rooted geometric structures discernible between the textured layers of her canvases; the strength of the lines helps define the formality of the paintings.
The artist's work references the symbolic language of indigenous embroideries and brocades, whether Mayan, Wayuu, or other native Amerindian cultural groups. Likewise, as Janet Dawson points out in her evocative text The Mountain included in this catalog, the sacred mountains of Tepoztlán, always visible from the wall of windows in Juanita's studio, may be perceived as a silent voice in her paintings. Although the mountains do not appear as such in its canvases, nevertheless they are a permanent presence in the artist's psyche and imagination, simultaneously inspiring and intimidating, sharing their strength and magic.
"Juanita's work has become increasingly intricate, and her meticulous attention to technique is evident throughout. Her complex compositions reveal various paintings within paintings, constructed with overlaid layers of paint, fragments of various materials that, much as a sophisticated collage, form a fine framework."